Astonishing Cyber Attacks During Historical Summit..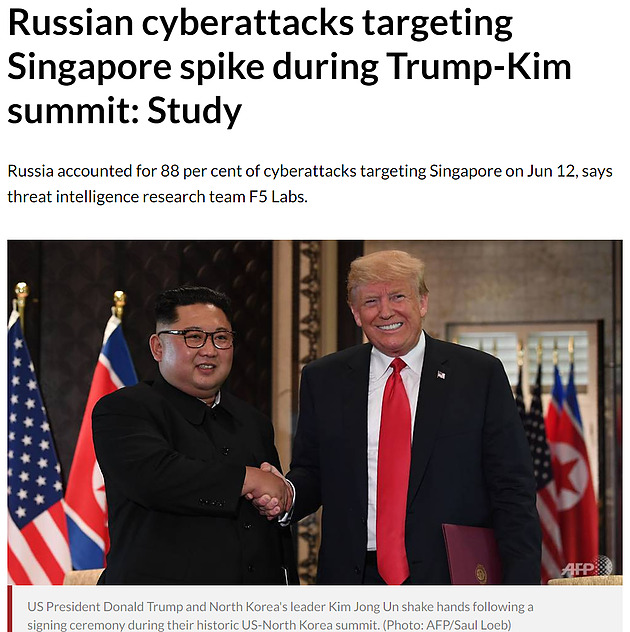 When the two leaders came to Singapore for a historical summit, Singapore government pulled out all the stops to ensure that such high-level meeting was shielded from any potential threats, foreign or domestic, physical or virtual.
When our cybersecurity professionals were recently asked what was there to protect virtually, our team commented 'a lot'. In fact, it could be seen as more than the physical aspect of risk management.
According to F5 Labs, the top two countries which attempted cyber attacks on Singapore computer networks were Russia and Brazil. Followed closely by Germany in TodayOnline's report.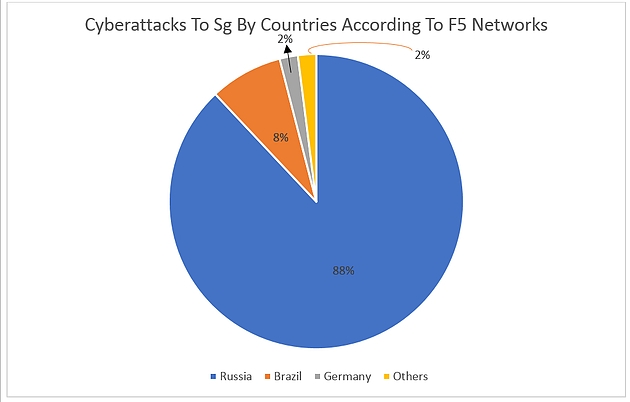 F5 Labs claimed that of all the attacks which came out from Russia, 97% was aimed at Singapore during that period.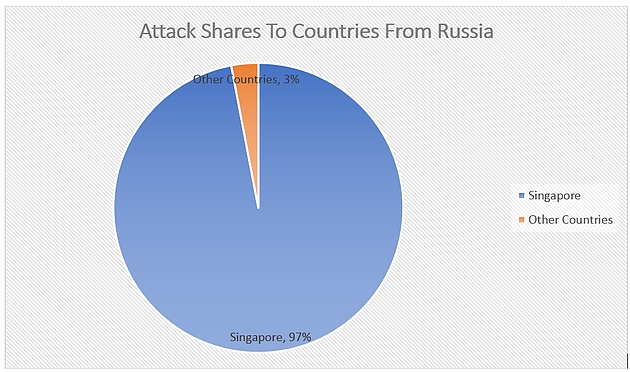 On one hand, this is not a surprise as the Trump-Kim meeting was a high-profile event. But on the other, it is quite disconcerting being marked as a target by such aggressive state attempts.
The attacks were captured between 11th and 12th Jun 2018
A total of 40,000 attacks were captured
A total of 21 hours duration in the attack from 11th Jun to 12th Jun 2018
Singapore is 5 hours ahead of Russia (the meeting was held at 0900hrs on Tuesday, 12th Jun 2018, Singapore time zone. Russia time was at around 0400hrs, on the same date)
Singapore is 11 hours ahead of Brazil (the meeting was held at 0900hrs on, Tuesday, 12th Jun 2018, Singapore time zone. And Brazil was at 2200hrs, 11th Jun, Monday night)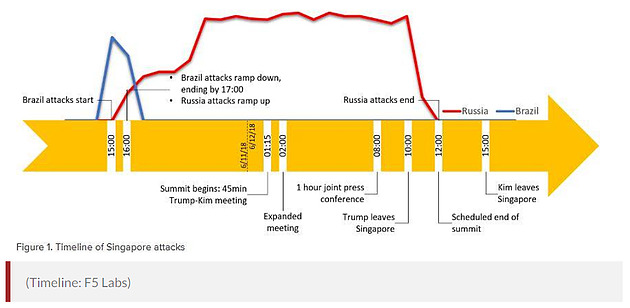 Cyber Security Agency (CSA) of Singapore commented that there was no major incidents or successful cyber attacks during that period.
All these were not possible without the men and women working tirelessly in the government and their private sector partners.